On the 9th day of Vikings, we give you 9 of the most shocking moments. Celebrate the 12 Days of Vikings with us, and come back every other day to see what Vikings moment or character we'll be celebrating next!
9. Rollo's marriage to Gisla
This was one thing that nobody saw coming. Rollo becoming a royal, and marrying a princess? Having been a warrior and true viking from the beginning, this was one surprise that really threw us through a loop. He does kind of suit it though, doesn't he?
8. Ivar's birth
Aslaug warned Ragnar of a cursed child should he not listen to her warnings, and he did just that. The true shock was the extent of Ivar's disability, and the thought of what a struggle it would be in the time of the vikings.
7. Aslaug's arrival
Ragnar and Lagertha's faces in this scene say it all. Nobody was expecting Aslaug to show up on their doorstep, and pregnant with Ragnar's child no less. This scene was a catalyst for a lot of change in the lives of our lead characters, and made for the story we know now.
6. Lagertha leaves Ragnar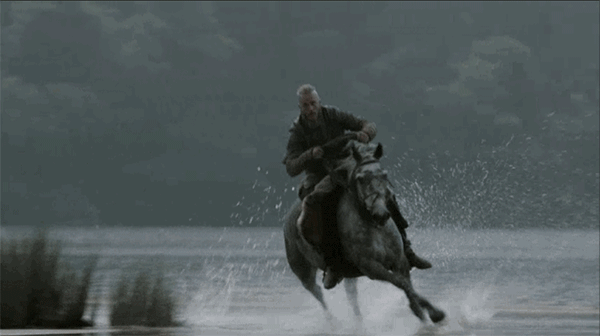 Not only a shocking moment, but a sad one. It was hard to believe that Lagertha would truly not spend the rest of her life as Ragnar's wife. Seeing Ragnar race after her was a spectacle in itself, and the interaction once he caught her was heartbreaking as it tore our two leading characters apart.
5. Lagertha kills her fiance 
Lagertha always delivers on her promises, and we learned that in this scene. I don't know how many people were really expecting her to kill Kalf, but she did, and it taught everyone never to underestimate her. Husbands don't stand a chance.
4. Siggy's death
To save Aslaug's children, Siggy had to dive into the ice and put herself at risk. Ultimately, she ended up giving up her life to save them. It was quite a shock after seeing so much promise in her role within the village.
3. Lagertha becoming Earl
While Lagertha has always exuded power and grace, becoming Earl was a surprise in itself. No one knew she had a plot to kill her husband except for one accomplice, and it made for an excellent plan. The snap movement that caused his death and her rise in power was a shock for all that were watching.
2. Athelstan's death
Floki took shock to a new level when he murdered Athelstan, and Ragnar was forced to face the loss of one of his very best friends. It was the beginning of a very different era for Ragnar, and the loss of Athelstan's guidance was the cause of an immense amount of change.
Ragnar's disappearance/reappearance 
The time jump of Ragnar's disappearance was quite the surprise. Finding out that he had just left his family and friends behind for years was utterly shocking. The people of his kingdom were equally as shocked when he showed up out of the blue, challenging his sons to kill him.